Installing a kitchen backsplash is an easy and fun DIY project that can transform the look of your kitchen. With this comprehensive guide, you'll have everything you need to know before beginning your installation, so you can get the backsplash of your dreams with minimal effort!
Plan Your Tile Layout and Measure the Space
The first step when installing your kitchen backsplash is to plan the tile layout and measure the space where you will be installing it. This will help ensure that the pattern you have chosen is centered and that the tiles fit properly in your kitchen design. Measure the area carefully and make a plan before you start purchasing tiles, as this will save time and money.
Before beginning, you will also want to consider the type of tiles you would like to have installed. There are a wide variety of material and texture options available, such as glass tiles, glossy ceramic tiles, natural stone tiles, and more.
Once you have chosen the type of tile you would like to install, it is important that you inspect each tile before installation to ensure they are in good condition. Additionally, be sure to purchase additional tiles than necessary as mistakes may occur during installation or if one of your tiles becomes cracked or broken.
Buying Supplies: What You'll Need for Backsplash Installation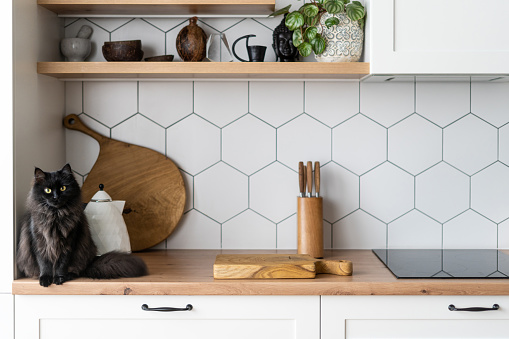 Before you start the installation process, you'll need to buy a few supplies from your local hardware store. You'll need tile adhesive, grout, sandpaper, or a sanding block for smoothing surfaces, a trowel for applying adhesive, tile spacers, and a putty knife or sponge for cleaning up excess grout and adhesive. If you're working with glass tiles you'll also need glass-compatible grout and no-sheen sealer.
Make sure to pick up some finishing materials like caulk for trimming gaps around electrical outlets or other openings in the wall.
Once you have your supplies, you'll need to prepare the area. This involves taking measurements and cutting tiles as needed. For most kitchen backsplashes, installing solid substrates like cement boards or thin-set mortar boards are necessary for extra protection from water leakage.
You can also use backer board adhesive to attach the boards to uneven surfaces. It's important to use appropriate spacers throughout the installation process so that your grout lines are even and aesthetically pleasing. Finish up your project by applying grout and sealer, then wall caulk where needed for a professional-looking job.
Installing the Tiles: Preparation Work, Spacing, Grouting, Caulking, and More!
Once you've laid out your backsplash design, it's time to start installing the tiles. Begin with the lower row of tiles and work up from there. Before applying any adhesive, make sure to do a test run on one tile and check that it fits in place properly. Don't forget to use spacers between each tile! Then use the trowel to spread adhesive over the wall as needed and press each tile firmly into place.
After you finish laying all of your tiles, leave them to dry for 24 hours before grouting or caulk gaps where necessary. Finally, apply a sealer over your finished backsplash and enjoy!
Before you start installing the tiles, make sure to properly prep the area you'll be working on. Wipe down any dust or dirt that may have accumulated and ensure the wall surface you plan to tile is free of any loose paint. Measure out your backsplash design as needed and mark where each tile should go with a pencil.
When cutting tiles to fit in awkward spaces, use a wet saw for straight lines and nippers for curved areas. If you're using mesh backing, cut it to size with scissors before adhering it to the wall. Finally, mix grout according to instructions and spread evenly into the spaces between tiles using a trowel or rubber float. Generally speaking, each tile should have a uniform ¼-inch spacing from all other tiles around it. Allow grout to dry for at least 24 hours before applying sealant over it. This will help protect your kitchen backsplash for years to come!
Finishing Touches: Adding Sealing and Drywall Putty as Necessary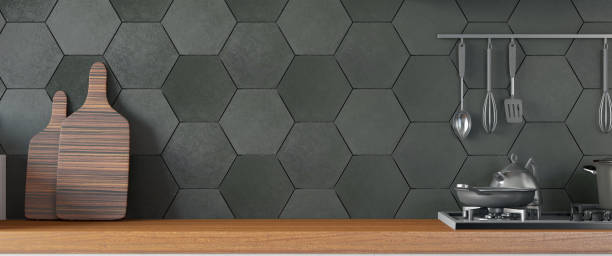 After you complete the installation of your backsplash tiles it is important to follow up with some finishing touches. Make sure that after your tiles are dry for 24 hours, you go back and add sealing around any sharp edges and where the grout meets the wall. You can also use a small putty knife to fill in any noticeable holes or gaps between walls with a bit of drywall putty.
This will give your DIY backsplash an extra smooth finish!
When sealing the edges, use a two-part polyurethane sealer to protect your tiles from moisture damage. Once you apply the sealer, wait for 24 hours before re-grouting. After grouting, use a damp cloth and mild detergent to wipe down any excess dirt or grout and add a final protective layer of sealing.
This will help prevent water damage in your kitchen and give your finished backsplash an extra polished look. Follow these simple finishing touches when installing your own DIY kitchen backsplash to make sure that it turns out looking as professional as possible!
Enjoy Your New Kitchen Backsplash!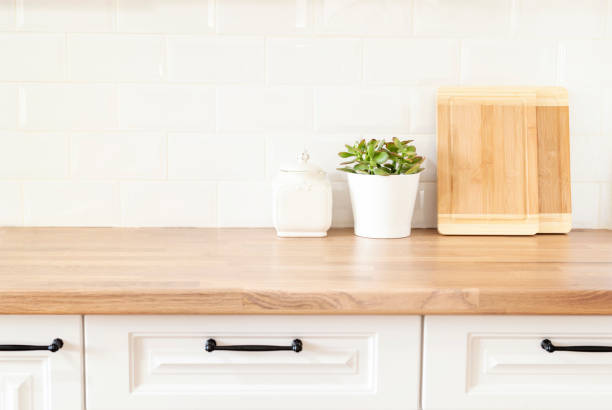 Finally, once you've followed all the instructions and installed your backsplash correctly, it's time to appreciate the hard work you put into it! Kick back and enjoy the fruits of your labor as you admire your new backsplash in your kitchen. Add some of your favorite decorations or centerpieces to complete the look and bask in the feeling of accomplishment that comes with completing a DIY project on your own.